My multi-designer challenge at Oscraps this month:
It's time once again for our Multi-Designer challenge.
Rather than a large quantity of designers, we are going to scrap a recipe of design elements from different designers.
The minimum number of designers is FOUR. But that's not all. This month I decided to do what everyone is doing these days, I searched Pinterest for inspiration.
Several interesting groups of pins came up in searches for 'multi-designer'. The most prevalent were for fingernail designs. Yup, these are all the rage and quite a trend, and I have to admit to being intrigued by this trend.
Then I found four more images of things I love...a quilt, a beautiful kitchen, National Park posters and a monogram. For each of these images, I pulled out the four primary design elements.
1) design elements - pink & green, dots, lines, squiggles/texture
2) design elements - primary colors, triangles, rectangles, wide border (also some black & white patterning)
3) Design elements - color + white, checks, circles, hanging elements (also x shapes, metal)
4) earth tones, blocked design, journaling cards, nature (also wood tones, rounded corners, framing)
5) purple + green, monogram/horizontal text, lace, flowers/bows
Now for your challenge... Pick one of these images, and using either the design elements I have identified or others that you see in the image, scrap a page using a minimum of FOUR DIFFERENT OSCRAPS DESIGNERS.
Here are some inspiration pages... For my page using inspiration picture #5, I used my favorite picture of Paris, with purple and green papers from Jen Maddocks Regarding Trees and Anna Aspnes ArtPlay Palette Strawberry Preserve, bow and lace from Maya de Groot, rose from Jopke Designs, and overlay from Joanne Brisbois. Font is Jellyka Delicious Cake.
Another page using inspiration picture #2, I used Jen Maddocks Quilt Templates 6, primary-colored paper from Anna Aspnes ArtPlay Palette Metro Grafitti, a wide border accented with Joanne Brisbois 12x12 Overlays, and black stamping from Lydia Designs.
New Cheery-O Alegna chose to boldly work with the green-checked inspiration page: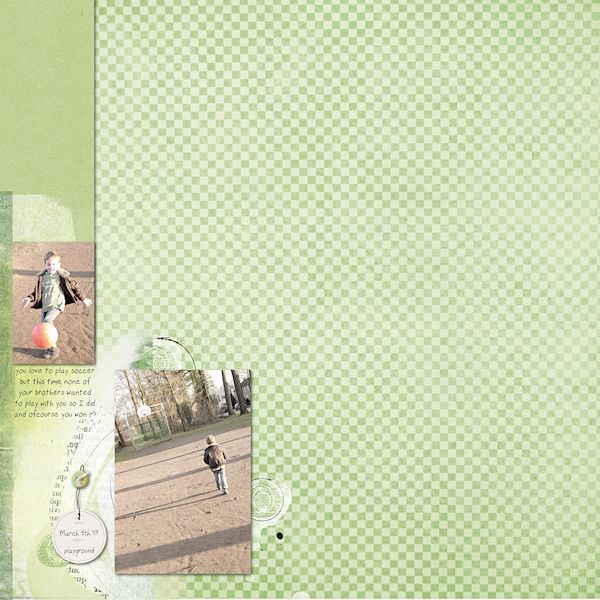 Another new Cheery-O, Cynthia, worked with the blocked design, in soft and pretty colors:
Like me, faerywings chose the green and purple monogram as inspiration and created this adorable page:
Here is a beautiful blocked design from Timounette: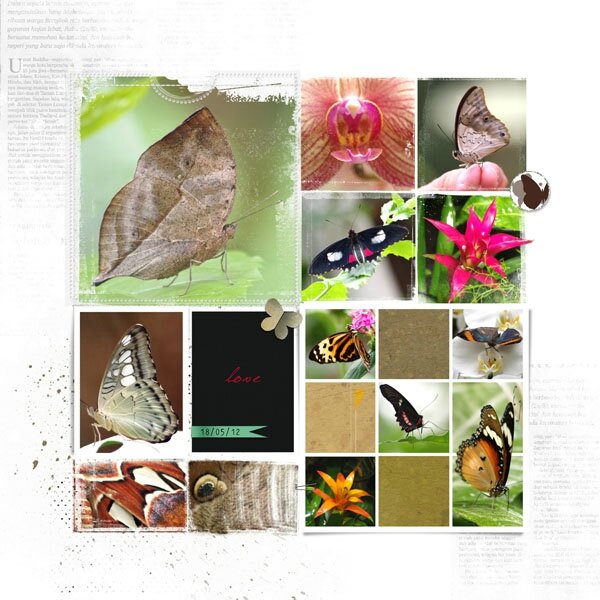 The same inspiration was behind this different and wonderful page from Nana:
And one more from new Cheery-O Dumpty:
RULES:
Scrap a page using one of the multi-designer inspiration pages as inspiration, using at least 4 different Oscraps designers. You can use products from the Oscraps collabs as long as you credit the individual designers.
You must use 80% OSCRAPS products.
Your page must be placed in the Number 6 Challenge Gallery by midnight PST Tuesday 30th of April 2013 and linked back to this thread
YOU REALLY MUST HAVE FUN!!!!
Remember to update your post in the monthly Tracking Thread to receive your credit for this challenge.